Ventilation System Checks
At Extraction Canopy, we pride ourselves on providing our clients with long-lasting, high-performance commercial kitchen ventilation systems – but in order to ensure that your ventilation system continues to run as efficiently as possible, there are a number of system checks which must be carried out. These checks take very little time to complete, and doing so can make your ventilation system last much longer.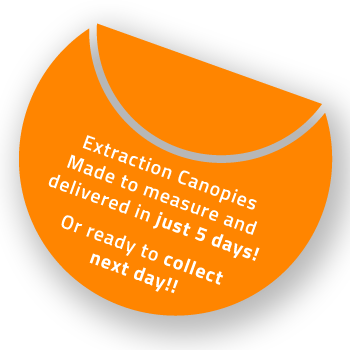 Extraction Canopies/Cooker Hoods
All grease drain points should be cleaned and checked for blockages at least twice a year
Do not allow grease collection trays to overflow – empty and clean them as required
Book at least a biannual inspection from Extraction Canopy to ensure the inner workings of your ventilation system are running correctly.
Filters
Remove and isolate the system to avoid unfiltered air entering the system and grease causing a fire hazard – filters are equipped with grips for easy removal and insertion.
Clean grease collection drawers, stainless steel baffle filters and aluminium mesh filters at least once a week. All drawers and filters from Extraction Canopy can be cleaned in any commercial kitchen dishwasher. Soaking in a warm degreasing agent for 15 minutes before loading into the dishwasher may aid the removal of grease, dirt and grime.
Extractor Fans
Switch on the system and listen for any unusual noises or vibrations coming from your extractor fan during quiet moments in the kitchen such as the end of a working day – such noises can often go unnoticed amid the everyday operations of a commercial kitchen.
If you do hear unusual noises, isolate the electrical supply from the fan and remove and clean the fan impeller. If the problem persists, contact Extraction Canopy.
Check that any flexible couplings are secure and undamaged.
Ensure that fan motors with grease fittings are properly lubricated.
Ventilation System Ducting
Ask one of Extraction Canopy's ventilation experts to inspect your system at least once a year.
Regular cleans should be scheduled at intervals relative to how heavily your ventilation system is used:
Commercial kitchens with heavy use (12-16 hours per day) should clean their ducting once every three months;
Commercial kitchens with moderate use (6-12 hours per day) should clean their ducting once every six months;
Commercial kitchens with light use (2-6 hours per day) should clean their ducting once a year.
Dampers
Any dampers ought to be set and locked into position by the engineer installing your kitchen ventilation system. No further adjustment should be necessary, but if you suspect work needs doing, contact Extraction Canopy.
Speed Controller Operation
If you have a speed controller fitted to your extraction system and think it may be malfunctioning, make sure it is adjusted correctly. The standard speed should be set at mark during the ventilation system's installation, and if it has been turned up to evacuate excessive smoke, steam or odours, it may not have been returned to the standard speed.
All metal stainless steel surfaces on your kitchen ventilation units should be cleaned using a recommended cleaning agent. Caustic, abrasive or aggressive cleaning products should be avoided, as they will scratch the surface of the steel, encouraging the growth of bacteria. Extraction Canopy recommend hiring an external cleaning company at least once a year to ensure proper standards of cleanliness are being met.
Failure to carry out the correct system checks will affect your kitchen ventilation system's performance, which will result in a buildup of bacteria, grease and dirt, which will in turn affect the working environment in your commercial kitchen. A reduction in your ventilation system's effectiveness may also result in your kitchen failing to meet the standards required by current health and safety legislation.
Extraction Canopy
Extraction Canopy Ltd
Unit 15, Tresham Road
Orton Southgate
Peterborough
PE2 6SG
Copyright Extraction Canopy LTD 2021