About Extraction Canopy UK
Based in Peterborough, Cambridgeshire, Extraction Canopy has established itself as a leading UK supplier of commercial kitchen ventilation, extraction and exhaust systems.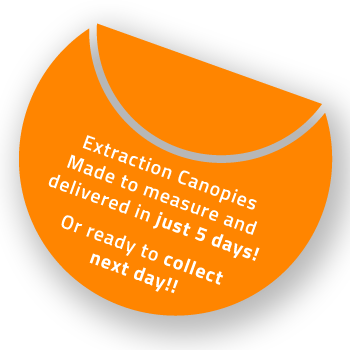 Air Replacement Systems
Can be modified to suit the individual needs of your business, keeping your staff cool and the air in your commercial kitchen fresh.
Gas Interlock Systems
Stop the gas supply if your kitchen ventilation system should cut out, preventing a buildup of noxious, combustible fumes and keeping your staff safe.
Stainless Steel and uPVC Wall Cladding
Protects the interior walls of your commercial kitchen from grease-filled air, bacteria and open flames.
Odour Control Systems and Noise Control Systems
To keep your commercial kitchen smelling clean and fresh and maintain a calm working environment.
We have proven examples of success within every sector – so whether you're a small business or a large organisation, we can deliver the perfect commercial kitchen ventilation and extraction design for you.
On a number of occasions, we have gone beyond being a supplier of kitchen ventilation solutions to clients to become a working partner. With our high level of training and accreditations, we can supply good advice and sound problem-solving solutions, from issues with planning authorities to commercial kitchen design to giving productivity advice and support.
For more information get in touch with us
Extraction Canopy
Extraction Canopy Ltd
Unit 15, Tresham Road
Orton Southgate
Peterborough
PE2 6SG
Copyright Extraction Canopy LTD 2021