Kitchen Air Replacement Systems
An effective commercial kitchen ventilation system must achieve "air balance," meaning the air exiting a kitchen through an extractor fan must be replaced with the same amount entering through doors, windows and other openings.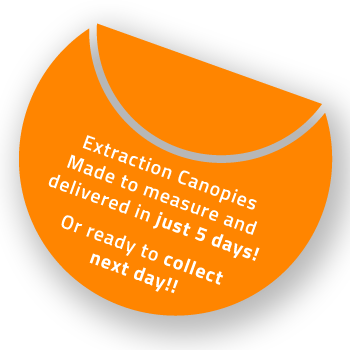 In order for a kitchen ventilation system to work correctly, both the extraction and fresh air flows must be considered and planned for – if fresh air is not introduced into the kitchen via a dedicated ventilation system, the air extracted through the canopy will have to be made up of natural infiltration air coming in through windows and other openings. It is recommended that naturally-filtrated air makes up 15-20% of the total air extracted, in order to maintain negative pressure in a commercial kitchen and prevent odours from escaping into adjacent areas.
Your commercial kitchen ventilation system from Extraction Canopy can supply replacement air into your kitchen. A full-length, fully insulated makeup air plenum can be incorporated within the front face or perimeter of your extraction canopy, parallel to the extract plenum. In the case of island canopies, a plenum on each of the canopy faces parallel to the extract plenum can be installed.
The introduction of air supply via the extraction canopy can
be made available using the following methods:

Canopy front face discharge
This is the normal method of introducing replacement air into the kitchen, with the replacement air being discharged into the kitchen via the front face of the canopy. Either stainless steel perforated panels or double-deflection grilles can be fitted to the front face of the canopy to diffuse the replacement air.

Induction supply air
This enables ambient air to be injected within the canopy via a slot at the lower internal edge of the canopy face, parallel to the extract plenum. This jet of air induces the rising thermal currents towards the extract plenum, simultaneously mixing with the hot air to reduce the temperature of the air as it passes through the filters. This increases the molecular weight of the grease particles.

Perimeter supply air
This creates an air-curtain effect, providing kitchen staff with a refreshing, cooling air flow to alleviate the effects of radiant heat and forming a barrier against rising thermal currents.
All commercial kitchen ventilation solutions from Extraction Canopy are bespoke and manufactured to suit kitchen size, location, customer requirements and cooking equipment beneath – so any combination of the above air replacement systems can be incorporated into your extractor fan, cooker hood or island canopy.
Extraction Canopy
Extraction Canopy Ltd
Unit 15, Tresham Road
Orton Southgate
Peterborough
PE2 6SG
Copyright Extraction Canopy LTD 2021