Health and Safety with Kitchen Extractor Fans
Every commercial kitchen is different, and so rather than offering identikit kitchen extractor fans, Extraction Canopy offer bespoke commercial kitchen ventilation systems, cooker hoods and island canopies tailored to every individual client's needs. This ensures your commercial kitchen is as safe and healthy to work in as possible.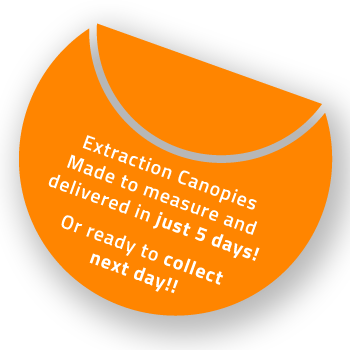 A properly implemented ventilation system is a necessity for a commercial kitchen – should a kitchen not comply with health and safety standards, it is at risk of having insurance policies voided and even being shut down.
A common cause of fires in a commercial kitchen is grease-filled air. Kitchens that do a lot of frying are particularly vulnerable to this potential hazard, so be sure to ask Extraction Canopy for specialist advice and guidance if this is the kind of environment you'll be working in.
Kitchens using gas appliances are at risk of a carbon monoxide leak. Installing a quality commercial kitchen ventilation system minimises the risk of such a leak, which not only puts your kitchen at risk of being shut down – it can be fatal.
When properly maintained, a quality commercial kitchen extraction system can last years. Along with such a ventilation system, Extraction Canopy can also offer cleaning and maintenance services, plus guidance on how to keep your ventilation system performing at the optimum level. Be sure to adhere to health and safety guidelines and your commercial kitchen won't fall at the first hurdle before you've even cooked your first meal.
Extraction Canopy
Extraction Canopy Ltd
Unit 15, Tresham Road
Orton Southgate
Peterborough
PE2 6SG
Copyright Extraction Canopy LTD 2021